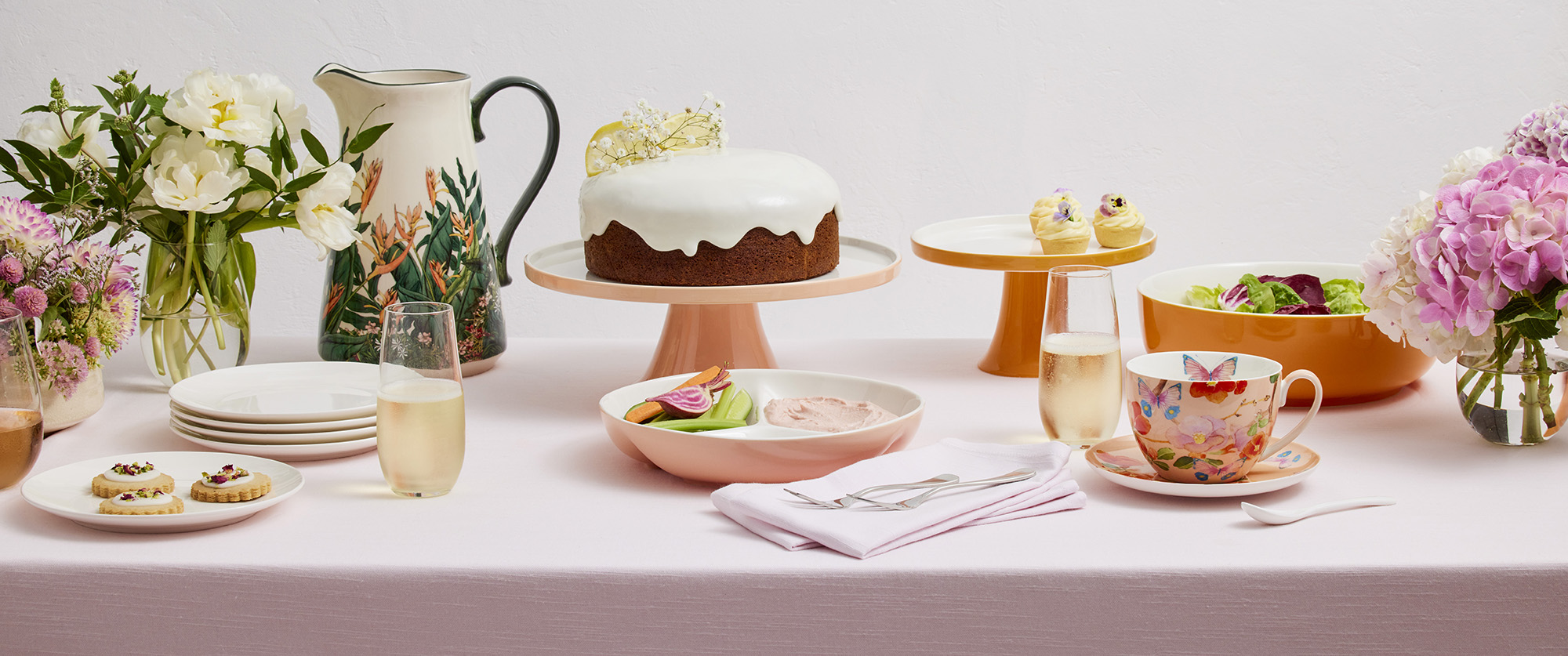 Spring time is that time of year – where your inbox is to the brim with wedding invitations and housewarming parties. So now, you need to search for the perfect gift ideas! (What to even buy for a housewarming present?) Whether you're looking for housewarming gift ideas for couples who are just moving in, or a gift for the new home owner who just locked in their first ever set of keys (exciting!), it's always a time for sweet celebration. And we're here to help you show up at their doorstep with the most thoughtful housewarming gift.
We're not talking vases and picture frames – let's find the most beautiful, practical gifts for the new homeowners! Our selections from Ecology, Essteele, Maxwell & Williams and more will take you through our curated range of dinner sets, cookware, and more. Here are the perfect items that will equip their dining table, kitchen and more to create a home ready to be lived in.
Dinner sets make gorgeous, compact, and simple housewarming gifts for newlyweds and everyone settling into a new place. Furnishing a home and planning out a future is tricky business, so a sweet gift set of dinnerware that covers all their dining needs can go a long way! Speaking of dining needs, we also can't forget about the kitchen. Whether it's a solo homeowner, a couple, or an entire family, you can always set them up for cooking success with our premium quality range of cookware.
Maybe you'll love our European made Essteele cookware? With a diamond reinforced non stick coating and an aluminium body, this elegant cookware brand is a favourite by many. You can also help the new homeowners make food prep super fast & easy with our range of space-saving Cuisinart cordless appliances, designed to be countertop friendly with game-changing features to make everyday food preparation a breeze.
For the slower evenings in when they want to roast a nice stew paired with a glass of wine, we guarantee they'll adore any one of our Pyrocast Pyrochef casseroles. Each is glazed in an ultra smooth surface with truly home-warming colours that will help cook & serve their dinner with an added charm, from the stovetop, oven, to the table.
Finally, here's why we think these gifts are the sweetest, most valuable gifts: Our top quality knife sets and cookware sets can help your loved ones save up as they settle down at their new home! We know knife sets can take a little while to save up for, and that's why we offer only the best bargains with unmatched quality.
Last but certainly not least, if it's cheerful and lightweight gifts you're looking for, the options below are sweet gifts if you want to show up at the door with "something for the table"! From glassware, cake stands and platters, to other tableware items, simply wrap any of them up for a nice thoughtful housewarming gift to bring to the gathering, lunch or dinner party.
Matchbox takes the worry out of your gifting, even when gifting on a budget. We also take the stress out of choosing, because rest assured everything you see in our stores (and online!) are selected to make their time at home and in the kitchen easier, and more enjoyable. So no need to worry about what to give for a housewarming this time — because we ship all these housewarming presents Australia wide with FREE Shipping applied on all orders over $69!